Put Efficiency In Overdrive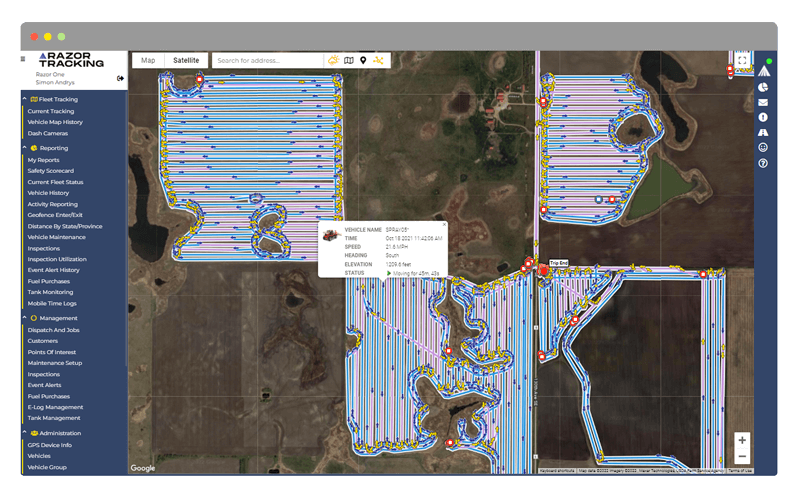 Razor Tracking Has a 98% Client Retention Rate. These Are Just A Few Reasons Why.
The Fleet Tracking Software Difference
See a 30% Performance Increase Within The First 60 Days
Fleet Tracking Increases Productivity
Streamline management, dispatching, driver location, and equipment performance with Razor Tracking. See an increase in productivity of up to 30% per season.
Fleet Tracking Lowers Equipment Costs
Fleet tracking means you can do more with less, and have the possibility to save hundreds of thousands of dollars by eliminating unneeded equipment.
Fleet Tracking Increases Service
With Razor Tracking, whether you're in agriculture or construction, the ability to provide the best service or increase your services area is what will help carry your company into the future.
Fleet tracking ensures you are in the correct field, making deliveries to the right location, and increasing the transparency of performance.
Track The Safety & Security of Your Fleet
With Razor Tracking you can receive alerts on speeding vehicles, harsh braking, and poor driving. Never lose a tank, pull cart, or trailer. Save money and gain peace of mind.
Fleet Tracking Lowers Operational Costs
When your company uses fleet tracking, you can decrease load times by 50%, gas consumption by up to 15%, and unneeded employee time on IFTA reports, phone calls and dispatching.
You are one step Closer to a More Organized, Streamiled, and Profitable Operation!
No Contracts. Cancel Anytime.
Unlimited Number of Users
*Our seasonal suspension can occur during any 6 months of the year. ELD services cannot be suspended.
**If you don't see the benefits of our software in your operation within 60-days, we offer a money-back guarantee on all new units purchased. Offer for new clients only. Units must be returned within 30 days notice of termination of service. All units purchased must be returned in new, or like-new condition. Units must include all wiring harnesses, antennas, or additional hardware. Once all units are returned to our facility, you will receive a credit. After 60 days all sales are final.
Fleet & Asset Tracking Starting At
$10 A Month
"With Razor Tracking's capabilities, we were able to serve 12,000 more acres and reduce our fuel expenses by 10%. I can guarantee you that it's the best tracking system in the industry compared to all the other ones we've used. I don't know how we got by without Razor Tracking."
"I have zero regrets in purchasing Razor Tracking. It is very user-friendly and simple to use. The installation was simple and easy enough for our guys to put in without having to go to a specialist. That was very cost-effective in itself. I would absolutely recommend this to any Nutrien Ag Solutions location or Ag company that does any custom agronomy or farm delivery."
"Razor Tracking has made us much more efficient. Management is much easier and streamlined. Our income level each month has gone up. I was skeptical at first, now I don't know if I could turn this off."
"Before we chose a fleet tracking system, a few questions and concerns came from employees about being "watched" on their job. We tried to dispell this and moved forward with a limited number of subscriptions early last year. By midyear, the employees wanted to add it to our propane division. Everyone is happy. It is simple to use and does what it says."