EFC Systems Announces a New Integration with Razor Tracking as the Preferred Fleet Management Provider
EFC Systems and Razor Tracking Will Create A Two-Way Integration to Elevate Real-Time Digital Agribusinesses.
FARGO, ND, (JAN. 10, 2023)
Industry leaders Razor Tracking and EFC Systems by Ever.Ag have integrated data within their respective platforms so customers can remotely monitor vehicles and non-powered equipment in either platform. EFC Systems FieldAlytics users will create a cohesive digital experience with the Razor Tracking integration.
Razor Tracking's solutions allow for extensive operational logistics, including fleet monitoring, inspections, safety reporting, dash cameras, maintenance, routing, geofencing, and so much more. This will be teamed with unmatched capabilities in FieldAlytics' digital operations tool.
Users of FieldAlytics and Razor Tracking will benefit from the two-way integration of the two respective industry leaders and create a cohesive digital experience. The EFC Systems by Ever.Ag integration functionality will be available in the first February, 2023 release.
About Razor Tracking, Inc.
Razor Tracking is headquartered in Fargo, ND, since 2012. Razor Tracking is recognized for offering the most advanced fleet management & operations platform. Razor Tracking provides a powerful and easy-to-use platform to track vehicles and assets, helping customers manage their operations in any industry. Razor Tracking is proven to maintain schedules, help with dispatching, increase overall efficiency, and improve your bottom line. For more information, please visit https://razortracking.com.
About EFC Systems by Ever.ag
EFC Systems, based out of Brentwood TN, delivers comprehensive solutions for Agribusiness Retailers to manage their operations and enhance their value to Growers. EFC Systems' product suite includes both business Management (Merchant Ag) and Digital Agronomy (FieldAlytics) platforms that help strengthen the Retailer/Grower partnerships. These solutions support operating procedures that drive efficiency and help manage risk while being highly connected to other platforms for data interoperability.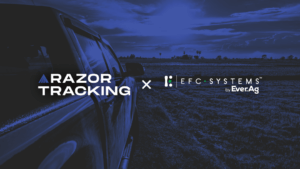 EFC Systems by Ever.Ag has integrated data within their FieldAlytics platform so customers can remotely monitor vehicles and non-powered equipment.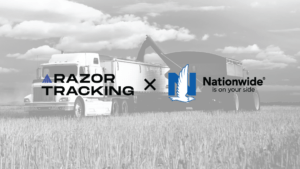 Nationwide and Razor Tracking announced a new partnership to offer advanced telematics and fleet management solutions at a discount for Nationwide's agribusiness customers across the country.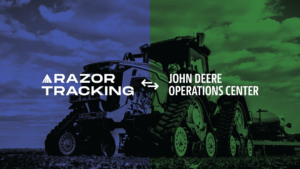 Now customers can see support vehicles alongside JDLink™ enabled equipment in Operations Center™ by integrating Razor Tracking devices.
Reach Out To Start Your Integration